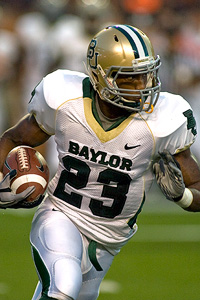 Most people consider seventh-round picks as virtual throwaways, players who are drafted who might soon be off the roster. Occasionally, some magic happens, and a productive player emerges from the edges of Mr. Irrelevant. Maybe Baylor's running back Jay Finley is that player. Maybe.
Bengals running backs coach Jim Anderson has a pretty good track record. Rudi Johnson was a middle round pick who ended up topping 1,000 yards. Corey Dillon had a good run in Cincinnati and found more success in New England. Cedric Benson saved his career as a Bengal. Anderson has also gotten some good production out of Bernard Scott and Brian Leonard in limited opportunities.
Sure, there have been some duds too (Ki-Jana Carter, Chris Perry, and Kenny Irons), but those fallouts had more to do with injury than anything else. Overall, Anderson's performance has been outstanding.
So I'm not writing off Cincinnati's seventh-round pick Jay Finley. Finley has decent size (5'11" – 203), speed (4.56 in the 40), and some reported ability as a receiver. This past season, he had 12 touchdowns and more than 1,200 yards rushing. He also averaged more than six yards a carry.
Sure, scouts must have seen something must that pushed him into the seventh round, but he has some tools to work with. And Cincinnati's backfield has enough empty spots to give him some opportunities.
Perhaps Finley can make some magic.
Who knows?