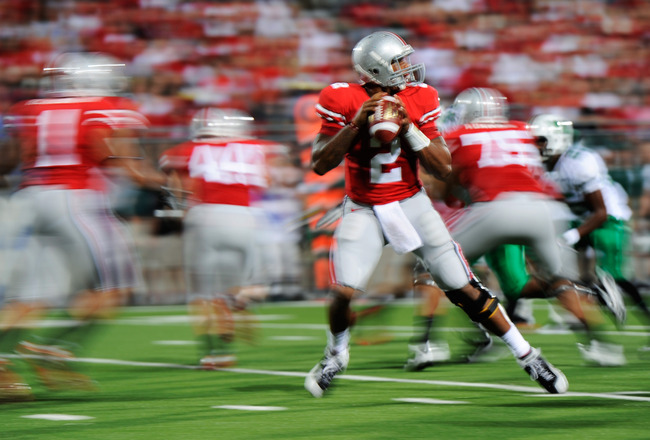 Terrelle Pryor is not a Cincinnati Bengal. Hopefully, he never will be.
But believe this, if the NFL has a supplemental draft, and Pryor enters it, someone will take a chance on him. And I wouldn't be surprised if it's at quarterback.
But here's what might really make me nuts – I think Pryor could win some games.
Most scouts are projecting TP as a receiver at the next level. Maybe even a tight end. According to NFL Draft Scout's Rob Rang (on Joe Reedy's blog), he sees Pryor as somewhat similar to Chargers wideout Vincent Jackson and puts about a 5th or 6th round grade on him in the supplemental draft.
But I think some team, somewhere, will fall in love with his physical gifts and give him a chance at quarterback. (Maybe the Raiders?). And I think at some point, Pryor could win some games.
Yes, he has obvious deficiencies. He doesn't seem to be skilled at reading defenses. He struggles with his accuracy and occasionally makes bad decisions. He's immature and am apparent magnet for trouble. But the very same things that made him a winner at Ohio State (freakish size, outstanding speed, great as a ballcarrier), could serve the same purpose in the pros.
Is he really that different from Vince Young, who won some games for the Titans when he wasn't busy (allegedly) punching people in strip clubs?
I don't think so. And I also think that some team, somewhere, will be thinking the same thing.
Perhaps I'm crazy. But I might be right.
Let's just hope the Bengals don't help us figure it out.